All Tasks > Web Site > Tag Cloud
Using the Tag Cloud
The Tag Cloud enhances the level of interest based navigation you can offer your website visitors. Tags work similarly to Categories, but are more comprehensive. Categories are limited to the scope of their module - article categories apply only to articles, but not to products, for example. Tags, on the other hand, have a system-wide scope, and cross the boundaries of all modules. A product, event, business listing, and article can all share the same tag, allowing the website to display related articles, events, products, or business directory members together. By creating and applying tags to content, you create the possibility of displaying highly related items - articles, products or events - next to articles, ordered by relevancy.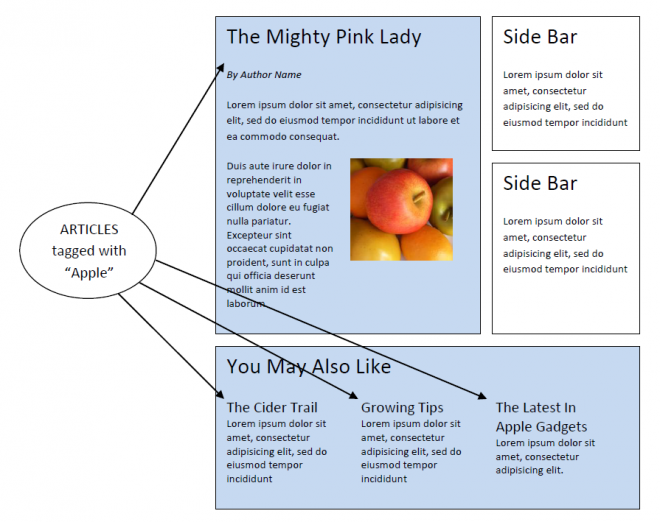 Create tags using Quick Setup while working on an item like Events or Articles, or create tags in the Tag Cloud located under Website in the All Tasks menu.
Creating Tags in Quick Setup
To use Quick Setup from an Event, Article or Product editor:
Click the Add New button next to the Tag Cloud field.
In the

Add New Tag-Quick Setup

dialog box, enter a

Tag Name.

Choose a name that is short, but descriptive.
Click

OK

to save the Tag.
A tag created in Quick Setup is activated automatically.

Creating Tags in the Tag Cloud Module
Click Add New Tag Cloud and complete the following fields:
Active

– Select to activate the tag.

Tag

– Enter a name for the tag. Choose a name that is short, but descriptive.

Save

.

Using Tags
Items can be assigned to several tags and appear in different tagged article sections. By default, tagged items display in order of newest to oldest, but the order can be changed manually.
Assigning Tags to an Item
In the Item Editor (such as Products) open the

Tag Cloud

field.
Select one or multiple tags to apply to the item.
Click

Save

.
Modifying and Deleting Tags
Tags can be modified or deleted by returning to the Tag Cloud and making modifications with Quick Edit or deleting the item directly from the list screen.