Creating a Shipping Profile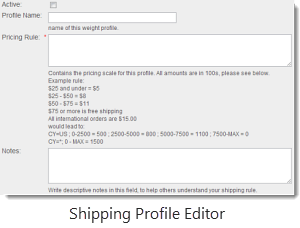 A Shipping Profile allows you to create variable shipping costs . Access to Shipping Profiles is found in the eCommerce list and also in the Product Editor's Pricing tab. You can create multiple profiles, but we suggest you modify and use the default profile to prevent errors (see tip below). To create a shipping profile:
Click

Add New Shipping Profile

and complete the following fields:

Active

– Select to activate shipping profile.

Profile Name

– Enter a descriptive name.

Pricing Rule

– Enter rules using the syntax below. Separate expressions with semicolons (no spaces) and place rules on separate lines for clarity.

Notes

– Use to document rules.

Shipping Profiles can also be created using Quick Setup in the Product Editor.
Both active and inactive profiles display in a pricing field. If you choose an inactive shipping profile, customers will not be charged for shipping.
Variable
Syntax
Explanation
Country

CY=US;

(United States)


CY=*;

(Outside United States)
If you have different shipping prices for overseas, specify those on a separate line. See instructions below to specify which countries you will ship to.
State
State= state code
Example –

State=HI;

or

State=AK;

If shipping costs vary for some states, you will need to add additional information.
Shipping costs by purchase ranges

0-15000=1500;




15000-MAX=0;

Enter a purchase range to the left of the equals sign. Enter the associated shipping amount to the right of the equals sign. Values are expressed in cents and do not use decimals. Use MAX to indicate all values larger than the entry to the left of the dash.

Pricing Rule - Based on the criteria in the variables below.

CY=US;0-4999=500;5000-14999=1500;15000-MAX=0
State=HI,AK;0-4999=1000;5000-14999=2000;15000-MAX=2500
CY=*;0-4999=1599;5000-19999=2599;20000-MAX=4000
Country=FR,ES;0-4999=2099;5000-19999=3000;20000-MAX=5000

Criteria

Shipments to all states except Hawaii and Alaska:
$0-$49.99 is $5.00
$50-$149.99 is $15.00
$150.00 or more is $0 (Free)

Shipments to Hawaii or Alaska:
$0 - $49.99 is $10.00
$50.00 - $149.99 is $20.00
$150.00 or more is $25.00

International shipments to all allowed countries, except France and Spain
$0 - $49.99 is $15.99
$50.00 - $199.99 is $25.99
$200.00 and above is $40.00.

Shipments to France (FR) and Spain (ES)
$0-49.99 is $20.99
$50.00 - $199.00 is $30.99
$200 and above is $50.00
International Shipping - Specifying Countries
If you ship internationally, you can limit the countries you allow shipping to in Global Settings. Users will not be able to order from restricted countries. You can designate these restrictions in Global Settings. Follow the steps below.
From the Admin Panel, Click All Tasks and Select Global Settings under Web Site. Click on Product Plug-in
In the

Shipping to Countries

field, enter the country codes of countries you deliver to. Refer to the List of official country codes. Remember to include your

home country

.
Separate the country codes with commas.
Click

Save

.