Follow this path to view all of your orders in one convenient location. The list screen displays summary information about your orders and provides search and filtering tools so you can easily view patterns or find specific orders.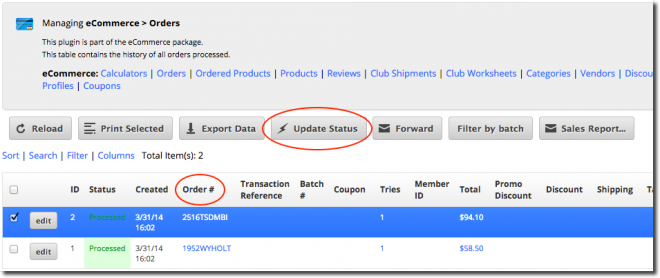 The list view of your orders will be shown. Click on the Order # to see details about each order including contact information, items purchased and payment method. The Referrer data tells you how your customer found you.

When you view the products sold in the order, you may need to update your available inventory if you have not checked the Track Inventory box in the Inventory Tab of the product.
Order Status
In Process - The order will be in process for a short time after the order is placed. The status will automatically change to one of the following:
Processed - Credit card information was accepted and the order is complete
Failed - There is a problem with the credit card, expiration date, etc. and you must take steps to correct the problem.
Other Status Types
Archived - If you wish, you may archive the order after the product is received by the customer.
Processed - Refunded - Shows the customer has been refunded after a return of the purchase.
Processed - Void - Shows the order was voided with the merchant processor
Notify - Void - Notifies LVSYS that the order was cancelled (important with offline order processing).
To change the status of an order, Click on the box before the order and click the Update Status Link at the top. After you change the status, remember to click SAVE.
NOTE: Each month you are charged for processed orders on your monthly LVSYS invoice. If you are using offline order processing and an order is cancelled, you must select the order and change the status to Void - Notify to notify us an order was voided and have the processing charge removed. If you are charged for processing on a cancelled order on your invoice, you must contact our help line to receive credit.