LVSYS offers a menu of powerful reports to assist you in analyzing your website's effectiveness. SEO Tracker, Page Hits, and Referrer Traffic reports provide data to help you understand and maximize your website's traffic and usage. Use these tools to improve your site's effectiveness.
Using the SEO Tracker
The SEO Tracker provides multiple levels of information about your keyword performance. Drill down from a graphical overview to detailed reports about keywords/phrases. When the SEO Tracker report opens, it displays a broad overview of all your keywords' performance.
Adding Keywords
Add keywords whose performance you'd like to track. Keywords are usually short phrases users might enter to find your site. Use keywords in your website to describe what you do or sell. Keyword opportunities exist throughout the site, including in Page Titles, Headings and internal links. To add keywords to the Tracker:
Add keywords to track by entering text in the

Add New Keyword

field and clicking the

Add

button.
You may actively track up to 10 keywords at any given time.

Disabling and Deleting Keywords
You may wish to disable tracked keywords so you can enable tracking of different keywords or delete keywords that are no longer relevant.

To disable a word, click the

Disable

link in the far right column.
To delete a keyword, check the selection box and click

Delete Selected

.
Viewing Average Total Performance
The area graph that displays on the Keyword Tracker page provides an at-a-glance view of total keywords' average performance for the week. The graph is interactive and allows you to also view the actual daily average, as well as select a different date range to display. To change the display:
Position your cursor on a graph point to view the average performance of all keywords combined. Keyword performance is refreshed every 24 hours.
Use the

Change Date Range

menu to view a longer time period.
After choosing a date range, click

Go

.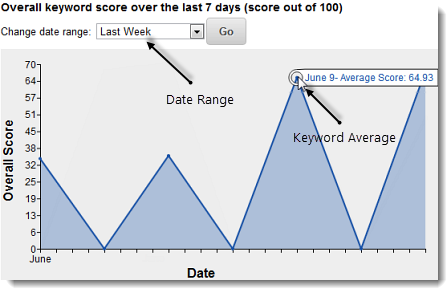 Viewing Individual Keyword Performance
The Keyword Movement section, below the graph, offers more detailed SEO ranking information. Google, Bing and Yahoo numeric rankings are displayed and ranking trends are summarized as Unranked, Steady, Fluctuating, Falling or Rising.
To view more details about each search engine's ranking for a particular keyword, click the Report link in the search engine's column.
Viewing a Keyword's Report
The Keyword Report opens to two area graphs that allow you to view at-a-glance trends in your keyword's rank and score in a particular search engine over a given time. You can easily view a different report or change the date range by selecting different parameters from the date fields and clicking Go.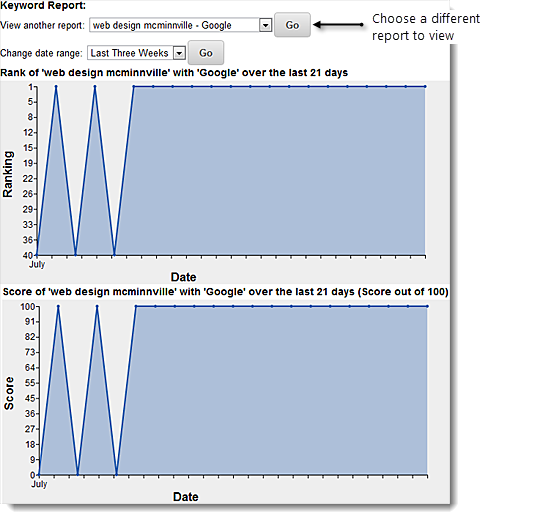 Viewing a Keyword's Ranking Details
Daily scores and ranks display below the graphs. Click a Details link to open a report showing your page and competitors' page rankings. Compare multiple days' details by selecting days and clicking Compare Selected.

The web page ranking details open at the bottom of the screen, showing the top 40 search engine results for your keyword on the selected day(s).