Keywords – Powerful Tools so Your Website Gets Noticed
Keywords are a critical component of SEO. Keywords correspond to the words users enter in a search engine to find products or services. Keywords are often a phrase, rather than a single word. It is crucial to determine the condensed key phrases that represent your mission or product for maximum searchability. LVSYS provides the tools you need to embed these words into your website and offers comprehensive reports to evaluate your SEO efforts.
The resource below can help you find relevant keywords and phrases.
Google AdWords Keyword Tool
Google's AdWords Keyword Tool is a free tool supporting Google's AdWords advertising program. Anyone can use it to discover high volume, relevant words and phrases. The tool is free – you do not need an AdWords advertising account – and you can use it on an as needed basis. Google limits the number of searches per hour and requires you to complete Captcha boxes for each search.
The AdWords Keyword Tool allows you to enter words or phrases and then view the performance of those terms. The Keyword Tool also displays similar search terms and their search frequency volume, for comparison. The measurements Google presents are explained below.
Competition - The Competition value in AdWords relates to the Google advertising pricing structure, which is based on bidding for keywords. For non-advertisers, the competition level simply reveals which search phrases are popular and which are not. A keyword that ranks High in Competition is used in proportionally more searches and its high demand will cost an advertiser more to use.
Global Monthly Searches – The monthly average derived from a year of global searches for the term.
Local Monthly Searches – The monthly average derived from a year of local (country) searches for the term.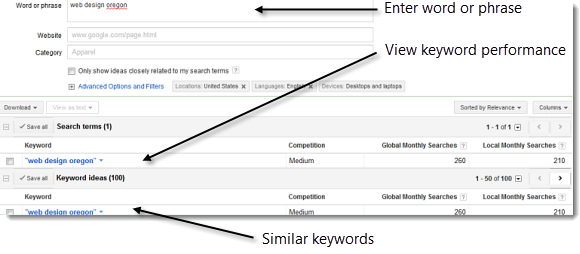 The keyword tool is found here: Google AdWords Keyword Tool.
Support for using the Keyword Tool can be found on Google's support site: Keyword Tool Support.
Other Keyword Tools
ubersuggest.org has a free tool consolidates findings from Google's and other company's suggestions to display keyword suggestions based on search queries.