Referrer Traffic Reports - Analyze How Visitors Get to Your Site
Traffic Reports show which sites direct visitors to your website (Google, Facebook, etc), through links, searches or advertisements. Pull referrer traffic reports by day, week, month or a custom date range.
Changing Date Ranges
The Referrer Traffic Report defaults to displaying the previous day's referrals, but the date range can be changed. Preset ranges include Yesterday, Last Week, Last Month, Last Two Months and Last Three Months. Choose the Custom option to change the range to any dates you wish. To change the report's date range:
To choose a preset option, click the

Change Date Range

menu, and choose a preset range.
To select a custom date range, click the

Change Date Range

menu and choose

Custom Dates

.

In the

Custom Dates

fields, enter the desired

From

and

To

range, using a mm/dd/yyyy date format.

Click

Go

.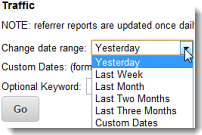 Referrer Site Report
The Referrer Site Report ranks the sites that refer to your site, so you can see at-a-glance where leads are coming from. The site domain is given, followed by the total number of referrals made from the site. It is important to understand that visitors to a site may have no referrer if they access the website directly, or multiple referrers, if they leave the site and return via a different path within the same browser session.

Search Queries Report
Search Queries tracks the search words or phrases generating referrals to your site. A list of keywords/phrases is followed by the number of times the phrase generated a referral to your site.