Setting Up Profile Info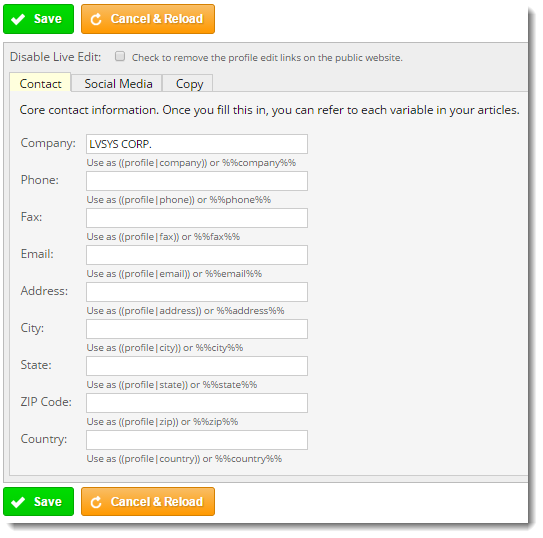 Disable Live Edit - Select this field to prevent admins from making changes to your Profile Info while in Live Edit. If this box is not checked, an edit profile link will display in Live Edit.
Contact Tab
Enter information in the desired fields exactly as you want it to appear on your website: Company name, Phone, Fax, Email, Address, City, State, Zip Code and Country
Social Media Tab
Enter social media links for Facebook, Twitter, Linked In, Pinterest, YouTube, Instagram and Google+ according to the examples shown after each box. Full address is required.
Copy Tab
Add the desired copy fields: Directions URL (i.e. Google Map URL), Map code (embed code), Hours, Welcome message, About and Team.

Using Profile Info
Insert short code in the form

( ( profile|field name ) )

wherever short code is allowed (articles, products, events, etc). Short code examples appear after each field in the Contact, Social Media and Copy Tabs.
If any of the fields change, enter the new information, SAVE your profile and the changes will be made throughout your website.