In this lesson we will review the remaining Article Tabs. Many are seldom used, but we will provide a brief description here.
Content (Lesson 1), Meta Tags (Lesson 2), Media (General Lesson 1) & Dates (Lesson 4) have already been covered.
Quick Facts - Deprecated - Do Not Use
Map - By entering an address or latitude and longitude coordinates, the template will generate a map to appear with the article. Articles with maps could be shown on a a city or county map, for example, to show proximity of locations. This feature is very useful for real estate or travel listings.
Options
Show Always - Ignore
Closed for Comments - Check the box to close comments, if comments are enabled.
View Count - Shows the number of times the full article has been viewed. A webpage may contain a list of Most Viewed articles. You can modify this number to remove an article from the list.
Email Count - Shows the number of times the article has been emailed, if allowed. You can modify this number.
Article UID & Article Source - Ignore
Open In Page - Advanced - This article will typically open in the default page configured to display articles. The default is set in Web Site > Global Settings > Article Plug-in You can override the page by selecting a different one from the drop down menu.
No Params - With Params - Advanced
Search Hide - If you do not want the article to be searchable through a website search, select Hide from Search Results from the dropdown menu. Select Show in Search Results or leave blank to make it searchable.
Search Weight - You may want a certain article to appear above others in a search. You can assign a numerical value here and articles with higher numbers will appear first.
Scripts - Optional - You can include up to 12 tags to add information related to, but not included in the body of the article. A template will direct how it is displayed. Examples are: a video pertaining to the article or sub headings. You can also rename article fields as shown below.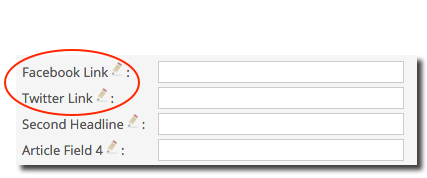 Submit Info - If visitors are allowed to submit articles to your website, information about the submitter can be entered here.
Notes - A place for you to record internal notes about the article. Information does not display.